World leaders made a series of pledges at the COP26 climate talks in Glasgow culminating in an agreement to strengthen emissions-cutting targets and reach net-zero by 2050. Yet in that same time frame the global population is expected to increase by more than 25% from 2020. It's clear there is commitment needed from global leaders and much work to be done to ensure our planet and people can live in harmony—and this is exactly what drives Dr. Katharina Beumelburg, Chief Strategy and Sustainability Officer at energy services company Schlumberger.
"Seventy percent of all carbon emissions are energy-related," points out Beumelburg. "That's why I'm motivated to bring about change."
We sat down with Beumelburg to find out about the drivers of decarbonization, the role of data in accelerating that journey, and why collaboration is the key to sustainability success.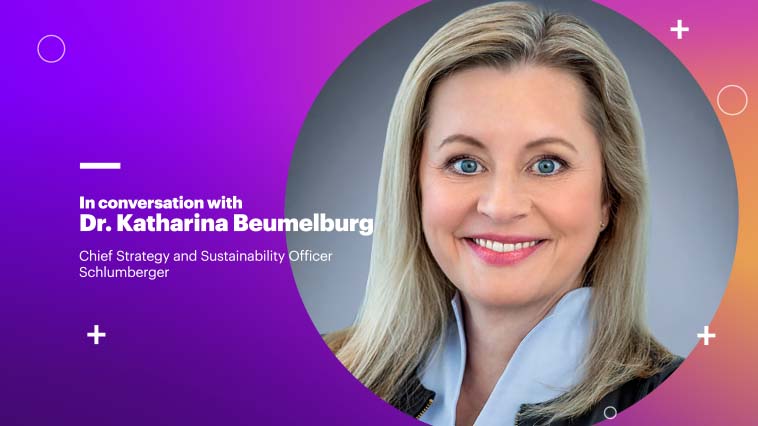 Accenture: Sustainability is top of mind for everybody, including the C-suite. How has that influenced Schlumberger's perspective?
Dr. Katharina Beumelburg: The commitment to change in the industry is real, and it has been accelerating at pace in the past few years. Sustainability used to be about reports and documentation. Now, in every discussion you have with a customer, competitor, analyst or investor, sustainability and decarbonization play a key role. I think that's very encouraging. It's a tough change for a lot of industries, but it's encouraging that people are exploring new ways of working. I firmly believe that an enormous change has already occurred throughout the entire industry and obviously that needs to continue.
Accenture: What will drive decarbonization? Is it more about the mindset shift, or is the focus rather on investments in technology, etc.?
Dr. KB: Let's start with the mindset question. I believe a mindset shift has already happened within the industry. However, a shift is needed when it comes to the perception of the industry. At COP26 there were discussions around whether the oil and gas industry should even participate and be included in the pursuit of a solution, because it's such a "bad" industry. That view needs to change, because to deliver on change we need the oil and gas industry. We will not be able to deliver on the enormous growth in demand for energy that we see year over year without the oil and gas industry, for many years to come.
So, either we all totally change our lifestyles and living conditions, or we find new ways to live with fossil fuels but decarbonize the industry. The mindset shift requires everyone to recognize that we need to work with the industry.
A lot of new technology and innovation is required for overall change; that's part of the reason I joined Schlumberger. The concept of carbon capture and storage (CCS) will be crucial to meet global climate goals, because the easiest way to get to a balanced planet is to bring as much carbon back under the ground as we bring up. That's what the net-zero carbon commitments are about. A lot of innovation has already happened. But if you look at the costs of making energy affordable, there's still a long way to go. We need more collaboration between different industry partners that haven't worked together before to create new playing fields that we can explore together.
Accenture: What role does data play in evaluating a company's performance when it comes to sustainability?
Dr. KB: The value of data goes way beyond measurement. The digital enablement of an entire ecosystem is about finding all the key accelerators in our own data and workflows, but also in the workflows we have with customers and suppliers. We then need to further explore those accelerators.
We need to find ways to be transparent and demonstrate how we are becoming more sustainable, so that people know it's for real. We can then really show people, in a reliable way, how emissions are improving. On the other hand, we also need to become far more efficient. And data is one of the major tools that will help the industry and ecosystem achieve that efficiency.
Accenture: What inspires you most?
Dr. KB: I'm motivated by wanting to make an impact and drive progress in the energy industry when it comes to climate change. I've been in the energy industry for a long time, since I joined Siemens, and I was most passionate about the energy sector because it's such an interesting and challenging arena. Later, I started thinking about what climate change does to our planet and the fact that 70% of all carbon emissions are energy related. That's why I'm motivated to bring change to the industry.
We need the energy industry to unite and figure out the most sustainable way to meet the enormous demand for energy and make people's lives better at the same time. We need to support the next billion people that need power, while also decarbonizing enough so that people like my daughter Charlotte, who is now six years old, will have a good life on our planet. That is what motivates me.
The Industrialist
This content was published originally by Accenture's "The Industrialist". It is your essential guide to the industrial industry, where you can discover the latest innovations, ideas, and insights.
Visit the link http://www.accenture.com/theindustr